Production Commentary
Here Annie and Caryn explain some of their composition strategy.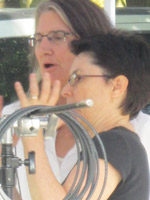 Writer/director Annie Grosshans writes: I realized when we were shooting that the dress had become a character that engages Daughter in a "conversation," calling to her through memory when Daughter pulls it from its hiding place in the drawer.  When Daughter slips the dress over her body she feels an affinity, a closeness with her mother's body and then understands the difference: both in the physical fact of Daughter's body being shaped differently by a lifetime of being used differently, and sub texturally by demonstrating the shift in the cultural meaning of womanhood between her life and her mother's.  This is what makes it so terrifying when Daughter gets trapped in the dress.  Until she can calm down and become "one with the dress" and get it off.
Cinematographer Caryn Cline writes:   Our biggest challenge is to continue to put into practice our commitment to telling our story using Annie's notion of "narrative otherways," that is, narrative techniques that do not slavishly follow the orthodox approaches to visual storytelling that are the hallmark of the "male narrative," or the typical Hollywood lexicon. So when we were storyboarding "The Dress" we utilized cinematic and aesthetic strategies that worked counter to making a nice looking woman in her underwear an object of desire.
FINDING THE DRESS 
In the film, we decided to use the actual dress that Annie's mother made, rather than try to find a substitute.  This became very helpful on several fronts, not the least of which was with the budget- as having a dress made is an expensive production decision.  Hence the dress itself taught us what has become an ActsOfWitness "principle of practice" – that the most lightweight means to an end is often best.  Like how water finds its flow.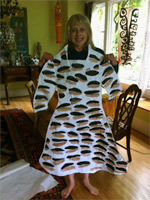 This decision also led us to the visual artist and teacher Lana Sundberg and her inspiration for how to create the Double Dress for the character of Double Helix of "Survival of the Fittest."